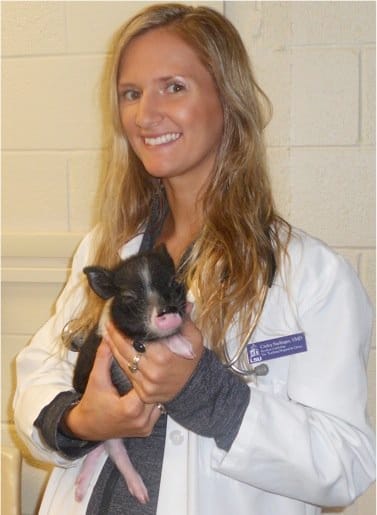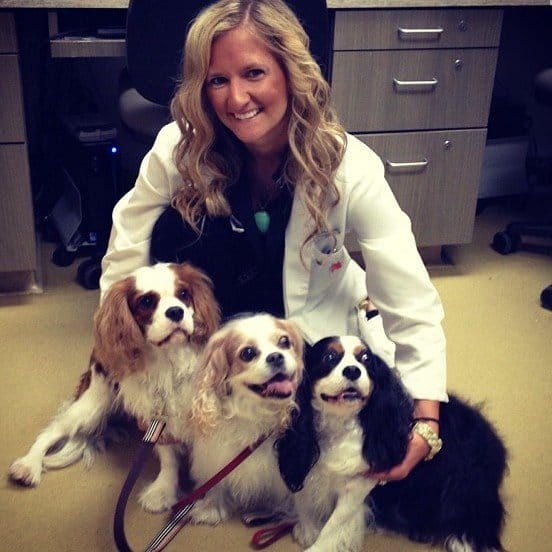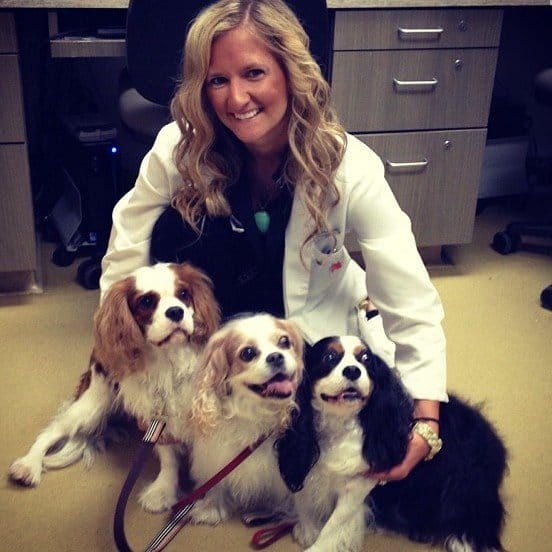 Dr. Saelinger is the founder and CEO of Cardiac Vet, Inc., a telemedicine service for interpretation of cardiac diagnostic studies and a mobile echo service for veterinarians. Dr. Saelinger is a graduate of The Schreyer Honors College at the Pennsylvania State University. She obtained her veterinary degree from the University of Pennsylvania in 2007. She then completed a one-year rotating internship at the University of Florida in Gainesville, followed by a cardiology internship and cardiology residency at Louisiana State University from 2008-2012. In 2012, she successfully completed the ACVIM exams and the Cardiology specialty boards to become a Diplomate (Board Certified Cardiologist) of the ACVIM in the specialty of Cardiology.
Dr. Saelinger's clinical interests include medical and surgical treatment of arrhythmias. She is one of two cardiologists in the United States who specialize in implantable cardioverter defibrillator (ICD) placement, programming and defibrillation. She also customizes pacemaker programming for individual canine patients. She has vast experience and a long time special interest in the pathophysiology & treatment of arrhythmogenic cardiomyopathy (AC) of Boxers and English Bulldogs. You can view her publications on this topic below.
When Dr. Saelinger has free time from keeping pets' hearts healthy, you can find her doing the same for people. Dr. Saelinger is passionate about fitness and is a certified Spin and Body Pump instructor. See her website: thevetwhosweats.com for more information.
Dr. Saelinger also is the department head of cardiology at the Animal Specialty and Emergency Center (ASEC) in Los Angeles, CA.
Wiggens K, Saelinger C. Isorhythmic atrioventricular dissociation, JAVMA, Feb 1, 2019, Vol:254(3):pages 350-352.
Vila J, Moise S, Oxford E, Fox P, Reynolds C, Saelinger C. Structural and molecular pathology of the atrium in boxer arrhythmogenic right ventricular cardiomyopathy. JVC, February 2017, vol: 19(1):57-67.
Pariaut R. Saelnger C. Cardiovascular disorders chapter 7, Clinical Medicine of the Dog and Cat, Third Edition, edited by Michael Schaer and Frederic P. Gaschen, July 2016.
McMahon P, Saelinger C. Reversal of echocardiographic right-sided heart pathology in a dog with severe pulmonary hypertension: a case report.  Veterinary Medicine Research and Reports. June 2015, vol 2015(6):211-218. 
Rademacher N, Pariaut R, Pate J, Saelinger C, Kearney MT, Gaschen L. Transthoracic lung ultrasound in normal dogs and dogs with cardiogenic pulmonary edema: a pilot study. Vet Radiol Ultrasound. 2014 Jul-Aug;55(4):447-52.
Pariaut R, Saelinger C, Strickland K, Vila J, Reynolds C, Beaufrere H. Tricuspid annular plane systolic excursion (TAPSE) in dogs: reference values and impact of pulmonary hypertension, JVIM, September 2012, vol: 26(5):1148-54.
Pariaut R, Saelinger C, Vila J, DeForge W, Queiroz-Williams C, Reynolds C, Beaufrere H, Zimmerman M. Evaluation of shock waveform configuration on the defibrillation capacity of implantable cardioverter defibrillators in dogs, JVC 2012, vol:14(3):389-398.
Pariaut R, Saelinger C, Queiroz P, Strickland K, Marshall C. Implantable cardioverter defibrillator in a German shepherd dog with ventricular arrhythmias, JVC, September 2011, vol: 13(3):203-210.
Le Roux A, Rademacher N, Saelinger C, Rodriguez D, Pariaut R, Gaschen L. Value of tracheal bifurcation angle measurement as radiographic sign of left atrial enlargement in dogs. VRU, 2012: Jan-Feb;53(1):28-33.
Ratterree W, Geiger T, Saelinger C, Pariaut R. The Value of Echocardiography and Electrocardiogram as Screening Tools Prior to Doxorubicin Administration: 101 Cases (2000-2009).  JAAHA 2012; Mar-Apr;48(2):89-96
Saelinger C, Estrada A, Maisenbacher H. ECG of the Month-The Brody Effect.JAVMA, 7/15/08, Vol:233(2):231-234.
Saelinger C, Lewbart G, Christian L, et al. Prevalence of Salmonella spp in cloacal, fecal, and gastrointestinal mucosal samples from wild North American turtles JAVMA, 7/15/06, Volume 229(2):266-268.
*Board-Certification in a specialty of veterinary medicine indicates that the individual has received and completed post-graduate specialty training in an approved residency program and passed a certifying examination.